Toccare (Non) Toccare
Nasher Sculpture Center, Dallas, Texas
October 20, 2015 - January 10, 2016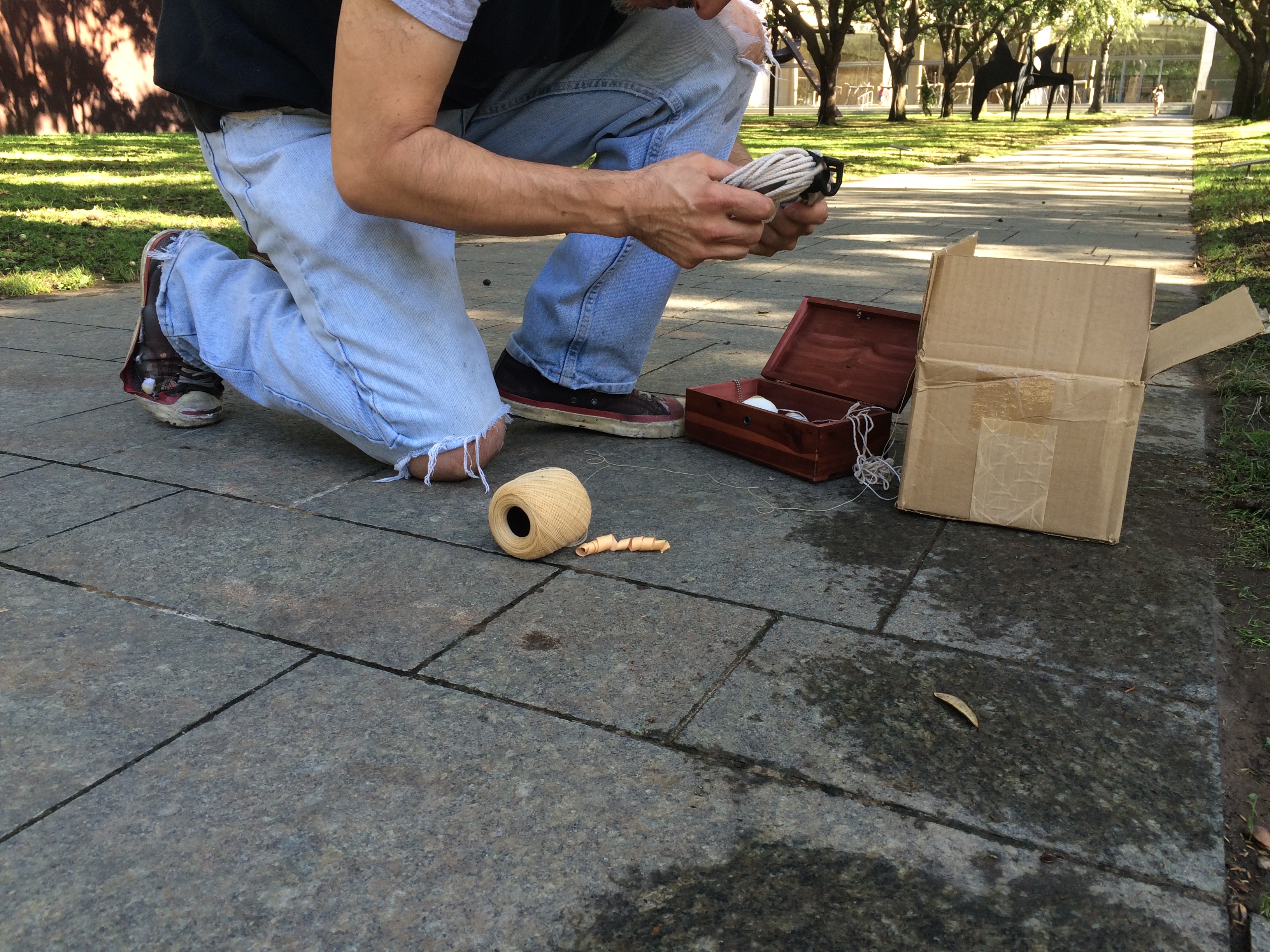 Toccare (Non) Toccare
included sculpture, found objects, drawing, poetry, sound, photography and video. These various elements were interweaved in Lapthisophon's actions at the Nasher Sculpture Center; events and installations, extending and paying tribute to many of the central ideas in Giuseppe Penone's work: body, nature, duration and the importance of place. With each monthly installment, Lapthisophon examined the influence of Penone and the Arte Povera movement, as well as the idea of influence itself by addressing notions of impression, touch, ephemerality and legacy.
Mirroring Penone's early action works in the Maritime Alps in the late 1960s, which are only known through photographic documentation, Lapthisophon's
Toccare (Non) Toccare
works were not exhibited publicly, but were experienced primarily through various forms of documentation, including photography, video, and print. All components of the project were shared through a variety of platforms: Lapthisophon's website, the Nasher Sculpture Center website, social media channels and a printed book published by the artist in January 2016.
The accompanying book is titled Notebook 1967-68
, taken from American poet Robert Lowell's text of the same name. 1967 marks the year of the first Arte Povera exhibitions in Italy, and Lowell's book chronicles the poet's life that year, interweaving the personal and public with attention to history, as well as the presence of literary and cultural figures. Lowell's
Notebook 1967-68
served as an influence on Lapthisophon's project and also as a model for the mixing of historic, public and private narratives. The book became a document of the multi-stage project at the Nasher and a space for Lapthisophon to explore auxiliary subjects such as European-American culture, the artwork-as-archive, and the boundary between art and its trace.
October 2015 Installment
:
Egg Bell
November 2015 Installment
:
Grey Book (available in a manner of exchange)
December 2015 Installment:
From one place to another
and
Potato Speech
*
January 2016 Installment
:
Black Potato Inside a white column against a tree in front of

*
click here to read Lapthisophon's conversation with Jed Morse